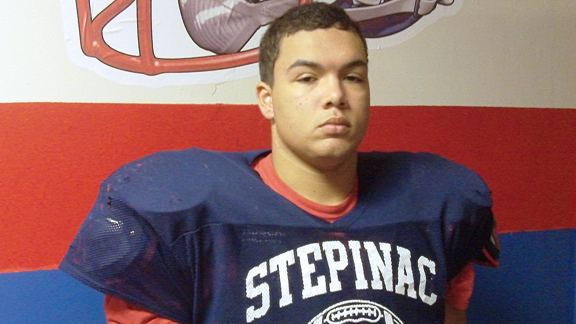 Leading On And Off The Field
Archbishop Stepinac fullback Caleb Gilligan-Evans is battling for his team on the gridiron and fighting for his community to save Playland Park in nearby Rye, N.Y. Matt Ehalt » High School blog »
Caleb Gilligan-Evans has two teams he's trying to lead to victories, albeit in different senses of the word.

The bulk of his time involves carrying a heavy workload as a fullback for the undefeated Archbishop Stepinac football team.

Yet, in the midst of rushing the football, he also ventures into the adult world to serve on the Citizens Committee for "Reinventing Playland Park for the 21st Century." It's a group that meets once a month evaluate proposals and try to find innovative ways to revitalize the Rye, N.Y., amusement park.

"We all have different ideas on the committee of what we think will work and won't work," Gilligan-Evans said. "It's a process of trying to get all those ideas together, without singling out anyone's ideas or thoughts. We try to make them all work together the way you would with football."

Gilligan-Evans says he values and enjoys his unique role as the only high school member among a team of adults on the Citizens Committee.

"To learn more and get involved in the community, that's a thing that I thought would look good for colleges," Gilligan-Evans said. "I wanted to be a part of some large community project that I helped to work on."

According to Citizens Committee Chairman James Chisholm, County Executive Robert Astorino selected a team of 16 individuals to go through proposals and submit a final plan for ways to reinvent Playland Park. They recently submitted their final proposal and are awaiting a response from Astorino.

Chisholm said the park is in line to lose about $4 million this year and attendance is down about 40 percent this year. The park has been steadily decreasing in both revenue and attendance for years.

Chisholm said that Astorino believed putting a high school student on the board would help bring in a wide range of ideas from a younger demographic as well as from someone who was more likely to have used the park recently. Chisholm commended Gilligan-Evans for his work with the committee.

"He's kind of a gentile giant in that he's a big guy but when asked question or his opinions he spoke up and carried his weight and did well," Chisholm said. "It's refreshing to tell you the truth, having somebody younger on the committee. He brought a fresh flavor to the whole idea of things."

Gilligan-Evans believes serving on the committee has helped him grow because he's heard other viewpoints and learned new ideas from the 15 other members. He also says he believes role with the committee played a role in him being accepted at Yale and receiving an offer to play football for the Bulldogs. He has not chosen a college, yet.

"I got to meet a lot of different people and learned not to just limit myself to certain areas like sports," Gilligan-Evans said. "I try to broaden my horizons with a lot of different fields and just a lot of things to be involved in."

Come Friday, though, Gilligan-Evans' attention will be focused solely on his football team as it takes on St. Anthony's. The two teams have not lost since 2009, with both winning CHSFL titles last season, and are the top two teams in ESPNNewYork.com's New York City poll with St. Anthony's ranked No. 1. They meet at 7 p.m. at White Plains High School.

"It's a great opportunity because you don't often have games with two undefeated teams and two teams that won championships the previous year," Gilligan-Evans said. "It's a great opportunity to see how far we have come as a football program, but we're not making this game out to be our football championship or anything like that. It's another game of our season but it's a great opportunity to see what we can do against a great team."