Updated:
February 1, 2011, 4:24 PM ET
Signing day preview
Orange is the popular color as 14 of the state's top players will sign with Syracuse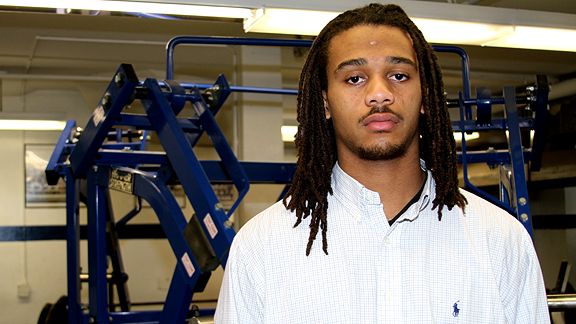 JC ShurburttStar high school defensive end Ishaq Williams, from Abraham Lincoln High School in Brooklyn, has chosen to play for Notre Dame, choosing the Fighting Irish over Syracuse and Penn State.
NEW YORK -- It didn't take much to sell Brandon Reddish on Syracuse. The first time the wide receiver from Brooklyn's Fort Hamilton High School talked to Syracuse secondary coach John Anselmo, he was hooked on the program's vision for recruiting in the Empire State and the Big Apple.
"He kept saying head coach (Doug) Marrone's a New York guy and he wants the New York kids," Reddish recalled about that Jan. 2010 meeting. "It got me interested because he wanted everybody from New York to play together."
Tomorrow, on national signing day, Reddish and several other New York City standouts will move one step closer toward playing together at Syracuse when they sign their national letters of intent to play for the Orange.
Syracuse has emerged as the preferred choice for New York City and New York State players this recruiting season, as six players who played in New York City's catholic or public football leagues will sign and a total of 14 players who played football this past season in the Orange's home state will also ink, according to ESPNU. That group of 14 includes high school, post graduate and junior college players.
"Coach Marrone is trying to unite the New York players and I think it's a great thing to be part of it," said Archbishop Stepinac defensive end and future member of the Orange Donnie Simmons. "This could be a fresh new start and something that might be great. What he's doing is pretty exceptional."
Getting the best talent from the state to play Big East football at Syracuse has one of Marrone's main goals in his short tenure with the Orange. A native of the Bronx, Marrone, who will embark on his third season as head coach this fall, played football in both the public and catholic leagues. His first two years of high school football were spent at Mount St. Michael in the Bronx, and then at Herbert H. Lehman. He then played at Syracuse and later had a brief career in the NFL.
With Marrone and Anselmo, who was previously the head coach at Nassau Community College, the Orange has a solid base for recruiting in New York City. Marrone can connect with the players about being an athlete from the city and how they will fit in at Syracuse. He knows what it's like to ride the trains, buses and subway daily in New York City, and to also deal with Lake Effect Snow in central New York.
In 2009, his first season at the helm, Marrone signed three players from New York schools, including one from the city. Last year, his first true recruiting class, Marrone's haul of 11 players from state schools featured four who live in New York City. That list does not include Jeremiah Kobena, a running back from Cardinal Hayes in the Bronx, who spent a post grad year at Milford Academy in Connecticut and will head up with the class of 2011 signess.
This upcoming signing class will have five New York City residents.
"If you look at the history of Syracuse University, we've always had a very strong foundation in the state and I think we lost that prior to my arrival," Marrone said. "I think it's important strategically to say 'how do you get it back?' I thought we'd have a better opportunity of getting it back downstate first because I'm from there, that just makes more sense to go ahead and push that with myself and coach Anselmo.
"I think what you are seeing now is us doing a better job in central New York in getting kids and working our way west to Rochester and Buffalo. I know we've done a much better job now of creating a foundation, trying to make sure we can get all the kids from New York State."
In addition to Reddish, Simmons and Kobena, this year's list of players with Big Apple ties includes: Fort Hamilton defensive tackle Ivan Foy of Brooklyn; Christ the King quarterback Terrell Hunt of Middle Village; and Nassau Community College transfer Siriki Diabete, who played high school ball at Lehman in the Bronx.
The city players seemed to embrace the idea of being part of a larger plan to bring the best of the best from the area to Syracuse. While each had their own reason for committing, the New York angle was certainly played a role in their decision.
Some felt that New York City players get overlooked and this is a chance to show on a national stage what they can accomplish. They liked knowing there will be other players at Syracuse with similar backgrounds so they can have a comfort zone.
Simmons and Hunt waged war with each other in the catholic league this year. They are familiar with each other from those battles and also from seeing each other at an official visit at the school. Foy and Reddish, who helped guide Fort Hamilton to a Public Schools Athletic League title this fall, have an even stronger bond as high school teammates.
"In the transition from high school to college you have to meet some new friends and all that," Foy said. "But it's easier when you get people you've been playing with for four years to come along. It makes the transition even easier."
Syracuse bills itself as "New York's College Team" and Marrone has clearly imbedded that notion into the state's top recruits. While Syracuse did miss out on the state's top prospect, Ishaq Williams, who is headed to Notre Dame, orange was the fashionable color among New York recruits this season.
The way Reddish sees it, that will only lead to good things for Syracuse.
"I know in years to come Syracuse is going to be one of the powerhouse teams," Reddish said. "I know New York kids and if they play together they can dominate against other teams."
Matt Ehalt is a regular contributor to ESPNNewYork.com.