Updated:
October 21, 2010, 9:34 PM ET
Speed is the key for Stepinac
Tremendous speed and solid schemes make Stepinac's defense tops in the CHSFL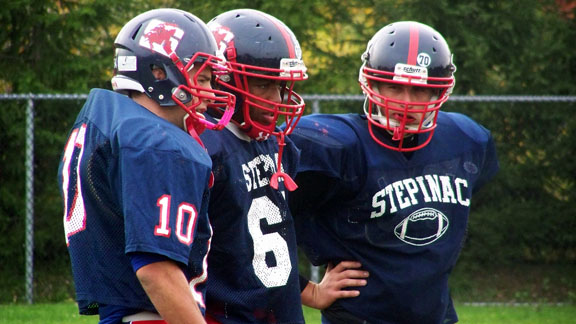 Matt Ehalt - ESPNNewYork.comStepinac linebacker Brian Byrnes and defensive end Donnie Simmons have helped the Crusaders defense limit opponents to just 27 points through six games.
WHITE PLAINS, N.Y. - It only took one game for Archbishop Stepinac defensive end Donnie Simmons to realize the Crusaders defense could be a stout unit this season.
In Stepinac's first game of the season, the visiting Crusaders stymied Iona Prep, 23-6. The Gaels came into the season ranked fifth in the Catholic High School Football League's AAA-AA division, the top tier of teams, while Stepinac resides in the AA-A division, which contains the second tier of teams.
"Once we played Iona, we knew that our defense is nothing to play around with," Simmons said. "And ever since then we've had to focus on shutting down opposing offenses."
Stepinac's defense has been the best in the CHSFL and has propelled the team to a 6-0 record heading into its showdown with Christ the King (5-1) Saturday in White Plains (2 p.m.). The Crusaders, one of three undefeated teams in the league, have shutout three teams and given up just 27, yes, 27 points.
"The defense is as good as I've ever had," said head coach Mike O' Donnell, who's been with the program for 30 years and served as the head coach for the last 23. "This is as good a team as I think I've ever coached."
While Stepinac is second in the CHSFL in points scored, the defense has been downright imposing. The Crusaders have given up more than six points in just one game. In its past three games, Stepinac has allowed three points and is working on two straight shutouts.
O' Donnell said his team plays a "robber" defense. It's a zone package in a 4-4 formation that uses containers and spillers to help push the runners to the inside or the outside, with the linebackers and single safety filling the alleys. The key to the Stepinac's defense, though, is speed.
The players, coaches, and even an opposing coach pointed out how the squad swarms to the ball on defense, using its speed to track down ball carriers. Their goal is to get all 11 players to the ball, which stems from pursuit drills the team works on from the first day of practice.
"We moved the ball very well early against Stepinac, but plays that usually result in big gains they closed down because of their team speed," said Bishop Ford head coach Jim Esposito, whose team lost 40-0 to Stepinac on Oct. 16. "As the game wore on, they wore us out with their speed. We were not able get to the outside and had to run between the tackles. They have tremendous team speed and are real good with their schemes."
Crusaders defensive coordinator Jon DeMarco credits three seniors as being the anchors of the defense's strong play: Simmons, linebacker Brian Byrnes and safety Jeff Clack.
Simmons, who has committed to Syracuse and has 27 solo tackles, buoys the defensive line. Although teams often run plays away from him, DeMarco says Simmons is quick enough to track down the opposing ball carriers. Simmons is ranked the seventh-best senior high school football player in New York according to ESPNU.
Byrnes is second on the team with 30 solo tackles as a starting inside linebacker, and DeMarco described him as the "brains of the defense" who has a knack for clogging holes. Clack is the lone safety, and DeMarco calls him a great open-field tackler. He leads the team with 31 solo tackles, in addition to 23 assisted tackles.
"They make it easier for me because I can do a lot of different things and have confidence they are going to line up correctly and execute correctly," DeMarco said. "I can take risks knowing I have those guys coming over the top to make those plays."
Last season Stepinac started 8-0 before losing its first playoff game to St. Francis Prep and finishing 8-3. With this year's defense dominating opponents, though, the outcome should be different this time around.
Just two games remain before the playoffs start and the Crusaders are well aware that an undefeated season and AA title are both within reach.
"I have a feeling," Byrnes said, "we're going to go undefeated, without a doubt."
Matt Ehalt is a regular contributor to ESPNNewYork.com.